Clear Invisible Braces Treatment Dentist Clinic in East Delhi

Clear invisible tooth coloured Dental Braces Treatment in Delhi, India.
Delhi Dental Center, one of the leading clear invisible tooth coloured dental braces clinic in Delhi with their team of best clear teeth braces specialist dentist orthodontist in Delhi, welcome people looking for cosmetic enhancement, smile designing, dental treatment for their mal-aligned crooked teeth with painless ceramic dental braces orthodontic treatment in Delhi, India.
What are Clear Ceramic Braces?
Clear invisible braces are teeth braces that are made of clear composite materials and are therefore less visible on your teeth than metal braces. For this reason, ceramic braces are used mainly on older teenagers and adult patient's ceramic because they "blend in" with the teeth and are less noticeable than metal.
Clear ceramic braces are very strong and durable and will not chip or crack unless they are badly abused. Of all the different clear types of braces, clear dental braces are the more affordable option for people needing more severe orthodontic treatment.
Clear Tooth Coloured Painless Dental Braces Treatment in Delhi.
Get your teeth straighten up in just 3 to 6 months' time with our Painless Clear, invisible, tooth coloured fast working express orthodontic dental braces treatment procedure in Delhi.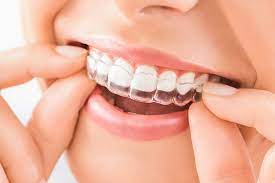 Great results, discreetly. 
If the thought of smiling with a mouth full of braces is putting you off orthodontic treatment,
Clear Invisible braces could be the treatment method for you.
What is clear invisible tooth coloured dental braces?
Wearing braces has never been so convenient and comfortable. Dr. Goswami's dental braces clinic in East Delhi, introduces painless clear invisible tooth coloured braces that gives you a lot to smile about, a comfortable sculptured design, an attractive, translucent clear appearance and perhaps the best of all – the confidence that comes from wearing braces that look as good as they perform.
With recent advances in dental material technologies, these Invisible clear tooth coloured orthodontic braces are an unbeatable combination of strength and beauty; Invisible clear braces will forever change your perspective on ceramic braces.
These braces work fast in a short span of time, without anyone knowing about it. Gone are the days of ugly metal braces which had to be worn for years.
 


Invisible braces use new age plastic materials and bonding adhesives. There material composition and design allow an uncompromising level of care and enable you to look good during treatment – many people may not even be aware that you are wearing braces at all.
Invisible clear teeth braces are smaller and are more comfortable than old fashioned braces. They have what is called a Low-Profile design, which is less irritating to your lips. They have special contours to make your orthodontic treatment in Delhi go faster and be less painful
Are clear ceramic braces suitable for me   ?
Clear Invisible teeth coloured Adult dental braces are a popular choice among our adult patients because it is not immediately obvious that you are wearing braces. This is particularly beneficial for many patients in client-facing jobs. You can smile without feeling self-conscious knowing the brackets don't stand out on your teeth. 
Benefits & advantages of clear invisible orthodontic dental braces.
#  Computer crafted: Invisible brackets are made using latest digital mapping and moulding technologies.
#  Transparent: These clear teeth coloured so no one will know you're straightening your teeth.
#  Comfortable: Edges are contoured so very comfortable to wear.
#  Short treatment time: The treatment is completed in a very short span of time – 4 to 11 months.
#  Clean: They are effectively designed to look very clean all the time.
#  Great looking: All edges are round and contoured so these look very small in size.
#  Discreet treatment option.
#  Gently moves teeth into their desired position.
#  Clear teeth coloured brackets won't stain over time ensuring they remain virtually unnoticeable.
#  Based on the effective method of traditional metal braces.
#  Get great results.
Dr. Goswami, the delhi dentist owner of clear invisible tooth coloured orthodontic dental braces clinic in East Delhi, offers affordable budget best price low cost cheapest clear dental braces treatment procedure in Delhi- India.
We welcome people looking to have a detailed consultation for their cross bite, under bite, open bite, scissor bite, over bite, crowding of teeth, spacing of teeth conditions and choose proper treatment options for themselves.




We offer different Orthodontic and Dental Braces treatments.