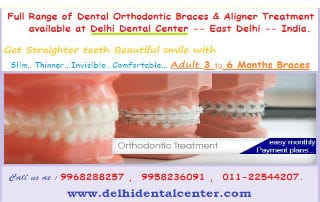 Top Best Dental Braces Orthodontist Specialist Dentist at Delhi Dental Center, in East Delhi India welcome people looking for best braces clinic in Delhi for treatment with Metal, Ceramic, Invisible, Lingual, Aligner & Adult 3 to 5 month Braces. There are various reasons to come to us for getting the best results outcome….
You will be greeted and seen on time, as we know that your time is valuable.
The same dentist will do your treatment from the start till the finish of your treatment. So that we will know from where we have started and what all we have done and how is your case at the end of treatment.
Personalized care will be taken throughout the treatment.
At our Dental Braces Clinic in Delhi – we don't take short cuts in our braces treatment. We will do all diagnostic test first ( will take your pre-treatment photos, dental impressions and will take your x – rays ) at your start of orthodontic treatment in Delhi. There is no substitute for having all the diagnostic things in hand before the start of any treatment. Lack of information will not give us proper results.
We don't recycle any of the orthodontic brackets or bands in our practice. We have made this a policy at our dental office.
Your dental treatment will be at one of the best dental clinic in Delhi. We will give you suggestion for how to reduce chances of having a dental cavity during the treatment, proper sterilization adhered to, powder free gloves used, and virtually invisible braces used in most of the cases. All desired results achieved in time.
You will receive personalized reminders before every orthodontic appointment.
We are the only Clinic in Delhi who provides Permanent lingual invisible retainers to all our patients.
We offer Adult fast working 3 to 5 months invisible Dental braces treatment procedure for Adults.
We also provide the facility of removable retainers, Habit breaking appliances, Palatal expansion plates, Anterior & Posterior Bite plates, inclined plates, Hawley's appliance, Invisible Retainers to our patients.
You will be getting dental treatment at our stable practice – same dentist – same location – Since 2000 ( for last 17 years).
You will get affordable, budget, Low Cost, Best Price – Cheapest dental braces and orthodontic treatment in whole of Delhi and NCR in India. Lot any people come to us lokking for dental brces treatment in areas like — Lakshmi Nagar, I P extension, Preet Vihar, Dilshad Garden, Mayur Vihar, Patparganj, Noida, Gaziabad, Vasundhara, Vashali, Indarapuram, Paharganj, Karol Bagh, Lajpat nagar, Faridabad, Gurgaon, Dwarka, Munirka Vasant kunj Vasanat Vihar in South Delhi.
Know More: Dental Braces